Welcome !
My name is Stephane and I live in Canada, in the Montreal area (province of Quebec).
This site presents my antique cars
This is about a Citroën SM currently under restoration, a second SM in very good condition and a Jaguar E-Type. You'll find also a Citroën 15 Six and a Citroën 2CV that I used to own but then sold.
Introduction
I found so many valuable information on the Internet about our beloved classic Citroën's that I thought it was my turn to communicate. I even try to do it in english. That's quite an effort for me because you'll see that my english is far from perfect 😉 So, with pictures and more or less technical comments, I try to share my passion, hoping that it could inspire or help some of you.
Warning
Caution: pictures make everything shine and look slightly better than it should, so what you see on this site is not always so nice in reality.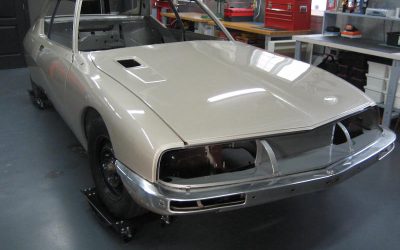 FINALLY! The body work is done. The car stayed at the body shop for 3 years. Well, I already told you, I didn't push a lot to speed-up the process because the faster it goes, the faster the bills come too 🙂 I went to the body shop during fall 2021, it was done....
read more
Contact
You can contact me by email.
The address is stephanepalumbo at outlook.com.
Replace "at" by a @ character and you'll get the full address.
Sorry, I don't show the full address here to avoid spams.