Here is my 1972 Citroën SM and its restoration in progress. Check again this site to follow the restoration steps.
The goal of this restoration is not to get a new SM or a "concourse condition" one, my budget is not big enough for that, but to get a nice looking car, which runs and drives well, and which I will be able to use on a regular basis without troubles. And to achieve this goal, I plan many years of work, often very exciting but also boring some times.
Here is the picture presenting this car in a classified add I saw on the web site of a local antique car club in May 2003. The car seems pretty nice on this picture but, in fact, she's in very bad shape.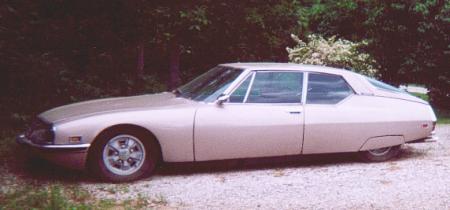 Main characteristics
Manufacturing date : May 1972
Version : SM, Canada
Serial number : 00SB9282 + 00SB5923 (2 bodies)
Mileage : Unknown!
Body color : "Sable métallisé"
Upholstery : Black leather
Engine : Maserati V6, 2.7 liters
Engine type : C114/1
Engine serial number : 200.406
Supply : 3 Weber 42DCNF carburetors
Gearbox : 5-speed manual
Options : Michelin RR (Résine Renforcée) rims, air conditioning, tinted windows, radio
Color codes
Body : "Sable métallisé" AC 318
Body, base color : grey AC 092
Hydraulic parts : green AC 502
Front grill : "Gris nacré" AC 095
Various metal sheet parts : "Brun chocolat" RAL 8017 or black AC 200 / RAL 9005
The car in its initial condition
Posts related to this car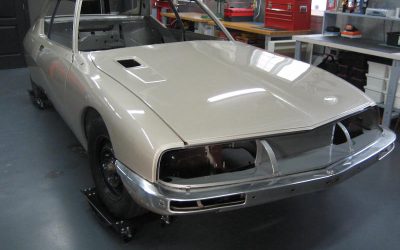 FINALLY! The body work is done. The car stayed at the body shop for 3 years. Well, I already told you, I didn't push a lot to speed-up the process because the faster it goes, the faster the bills come too 🙂 I went to the body shop during fall 2021, it was done....
read more