This is a Jaguar, not a Citroën, this car is like the intruder of this website initially dedicated to Citroën cars.
So here is my 1970 E-Type Jaguar. This is in fact one of my father's classic cars, he bought her in 1995, just after she got a complete restoration.
This is a 2+2 coupe with an automatic gearbox, originally from the United States. This is not the most desirable E-Type, in fact it's more the opposite, but she's gorgeous anyway, she drives like a charm and its engine music is wonderful.
For many years, I'm almost the only one to drive this car some times and of course, since I'm in Canada, driving opportunities are extremely rare. Now that this car is with me here, in Montreal, my mission is to drive and, of course, maintain it.
Here is a first presentation picture.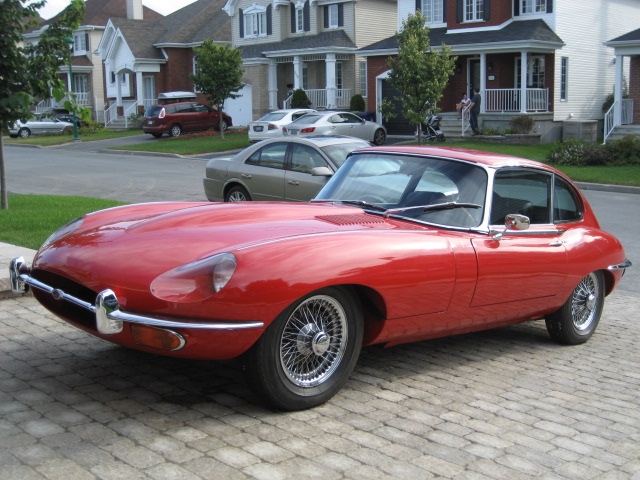 Main characteristics
Manufacturing date : Juin 1970
Version : 2+2 coupe series 2, United States
Serial number : P1R44193BW
Mileage : 79 000 miles
Body color : Red
Upholstery : Black leather
Engine : L6, 4.2 liters
Supply : 3 Weber carburetors
Gearbox : 3-gear automatic
Options : Power steering
Color codes
Body : I believe this is the Carmen red color, JAG-303 (Glasurit reference)
The car in its initial condition
Note that I didn't do any major modification or improvement onto this car
Posts related to this car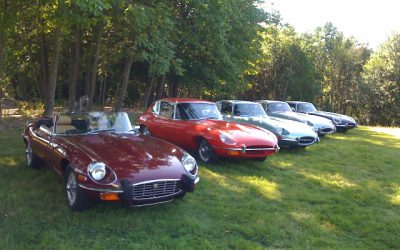 In September 2009, I went to the "Art and the automobile" event in Ogden (Quebec), this is a 1h30 drive south from Montreal. There are not so much cars there but we can find 5 Jaguar E-Type, that's pretty unusual. Some photographers were covering the event...
read more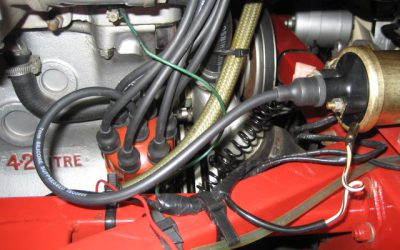 Starting this car has always been quite tricky. Since I use it on a more regular basis, I'm more successful, but I noticed a few times that the starter motor used so much current that the ignition was poor and some times the engine seems to fire correctly...
read more