Here is my 1974 Citroën SM "Injection Électronique" (IE or EFI). I bought this car to be able to drive a SM without having to wait for the completion of my other SM's slow restoration. That's cheating, I know, but that's so good 😉
In fact I was initially searching for a Citroën DS, but I quickly changed my mind because I now know the SM pretty well, I have all the required documentation and two SM would mean that I would be able to "play" with parts, for example by installing on this '74 SM IE some parts restored for the '72 SM, if needed.
I quickly forgot the idea of finding a nice SM here in Canada. There are some but the average condition of this type of car is usually pretty bad if no serious restoration has been done. The goal was to find a car in excellent shape. I asked my father to inspect some cars for sale in France during summer 2006. I fixed myself a "reasonable" budget but as usual I had to go slightly over this budget to find a really nice car.
To read the incredible adventure this car went thru when it was shipped from France to Canada, click here.
Here is one of the pictures my father sent me before buying this car. This picture has made a good part of the decision to chose this particular car.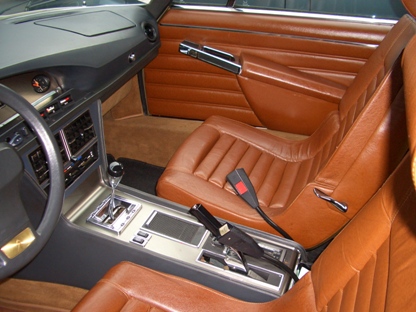 Main characteristics
Manufacturing date : October 1974
Version : SM IE, France
Serial number : 00SC3599
Mileage : 47 000 km (indicated when bought)
Body color : Beige Tholonet
Upholstery : "Tabac" (tobacco) leather
Engine : Maserati V6, 2.7 liters
Engine type : C114.03
Engine serial number : 303.402
Supply : Bosch electronic fuel injection (D-Jetronic)
gearbox : 5-speed manual
Options : air conditioning, tinted windows, radio
Color codes
Body : "Beige Tholonet" AC 085
Body base color : grey AC 092
Hydraulic parts : green AC 502
Front grill : "Gris nacré" AC 095
Air filters : grey AC 140
Various metal sheet parts : "Brun chocolat" RAL 8017
The car in its initial condition
The car after a partial restoration
Here are some pictures showing the engine compartment after its restoration
Posts related to this car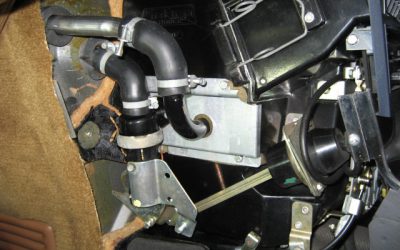 During winter 2011-2012 I finally started working on the interior heating system, which was not working. I don't use this car during winter but during the fall season a working heating system is useful and any ways I like when everything works. When I removed the...
read more